Australian Jimmy Spithill has been the skipper and helmsman behind two America's Cup victories and believes that his new Italian team Luna Rossa Prada Pirelli can reclaim sailing's biggest prize as he travels to Auckland for the PRADA Cup challenger series.
Spithill won his first title in 2010 thanks to BMW Oracle Racing's 2-0 victory over Swiss team Alinghi, then followed up in 2013 with Oracle Team USA by coming back from a -2 penalty score at the start to win 9-8 on the final race from Emirates Team New Zealand.
For his latest tilt at the famous trophy, the 41-year-old must first get his Italian boat past two American teams and the British boat led by Olympic legend Sir Ben Ainslie for the chance to challenge defending champions Emirates Team New Zealand from March 6-21, 2021.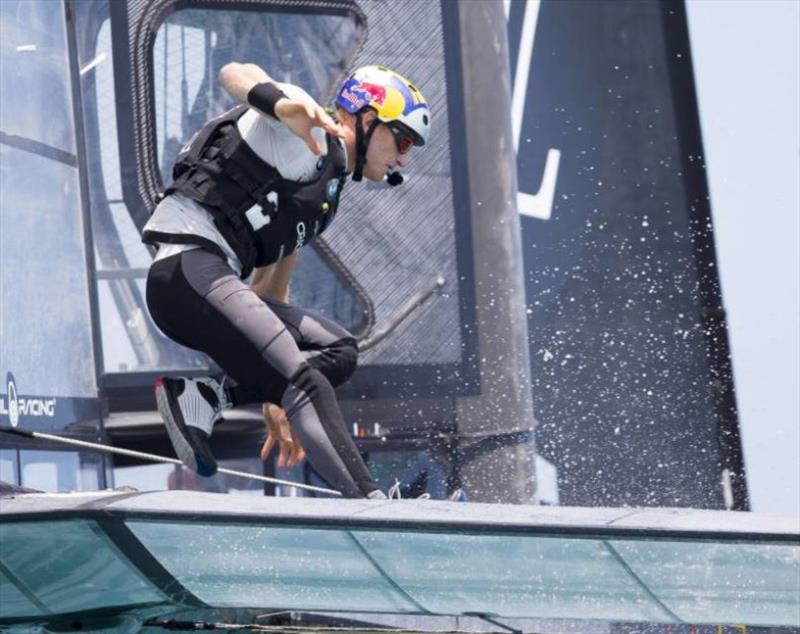 Jimmy Spithill - photo © Sander van der Borch / Red Bull Content Pool
Here is what the Sydney native had to say from Luna Rossa's Sardinian base ahead of the autumn trip to compete on New Zealand water:
How are things coming there in Sardinia?
We've been testing and developing multiple components, and we're getting close to finishing development of Boat 2. Meanwhile, we already have some team members in New Zealand and our base is starting to go up there.
Will you definitely be the person at the helm in Auckland?
We're going to nail down our crew once we get a bit closer to the racing. In sport, nothing is definite!
How difficult is it to move a team and assets almost 19,000km in the current conditions?
It is always a big logistic operation in the America's Cup and, given COVID, it's even bigger. We have to do it on a staggered basis because only so many people are allowed to land in New Zealand each day and it's not just the 100 people on the team. Take me - I have a wife and two kids, so it's four of us. Our plan is to be operating in Auckland in mid-October.
The AC75 that you'll be sailing - has there ever been a boat like this?
No. It's quite a lot different from the boats in the past two America's Cup cycles. Those were foiling catamarans, but this is something else completely - a monohull with hydraulic foil arms. Though in one way it does remind me of the AC72 we sailed in 2013, because that was so new and no one had done it before. This feels like just as big a step.
What about your teammates?
It's a great mix. We have sailors who have been involved in successful America's Cup programs and a range of disciplines in the sport, and some really good young Italian talent who have impressed me. The next generation are so much further educated and developed coming in. Thanks to technology, they've had access to watch and learn and get themselves up to speed and, ultimately, they put the team before themselves. That's the most critical thing.
Luna Rossa has to race against three teams in the PRADA Cup to clinch the Challenger spot in the America's Cup Match, so it's not a given that you'll be facing New Zealand...
No, not at all. The Challenger Selection Series is going to be extremely tough. Every team has what they need in terms of resources, so it will come down to the team that makes the best decisions and can win races.
You've been in the America's Cup as both Challenger and Defender. Which do you prefer?
If I could choose, I'd be the Defender because you've got a 50 per cent chance of winning. Although being the Defender is also extremely difficult, because you have a target on your back and you have to help organise and run the event. As much as you try to separate the racing from the other side, that part still takes some energy. Plus, as the Defender, you just don't get to race as much... but I'd still want to be the Defender.
You skippered Oracle Team USA against New Zealand in the past two America's Cup matches, and you're an Australian to boot. Will you be public enemy number one in Auckland?
You know, New Zealand is an amazing place, and Kiwis really appreciate competitive teams. They respect nothing more than a team that leaves it all on the battlefield, like their own Team New Zealand or the All Blacks, and that's what we aim to do on Luna Rossa too.
So, in other words, you've got a lot of respect for each other?
Yes, and I respectfully want to beat them!
#proregatta #funsailing #sailmore #sailyacht #sailingboot #sailingboats #sailinglove #sailinglifestyle #sailingyacht #sailinginstagram #instasail #sailingpassion #watchsailing #sailingfun #trackingapp #sailingrace #sails #yachtrachting #sail #dinghy #stayfit #befit #behealthy #sailinginstruments #volvooceanrace #vendeeglobe #oceanracing #dinghysailing #sailing #olympicsailing #regatta #iceboat #americascaup