Sail Sydney is Australia's premier regatta for 'Off the Beach' dinghy classes. Held annually on the waters of Sydney Harbour, this year's Sail Sydney will take place from 10 - 13 December.
Woollahra Sailing Club is proud to once again be the host club and official organisers of the event. The regatta began its life as a test event for the Sydney 2000 Olympic Games, and in recent years has grown to become the annual dinghy event with the largest number of participants in the Southern hemisphere.
This year's event will look different to previous Sail Sydney regattas. With a range of COVID-19 precautions in place to ensure the safety of competitors and officials, racing will be limited to Olympic and Youth classes with numbers capped for each class. There will be a waiting list for any classes that do reach maximum capacity, with Woollahra Sailing Club to contact competitors when an opening becomes available.
The regatta will mark a return to competition for many athletes. There will be a solid turn-out expected as hungry competitors finally get their chance to get back on the water and compete.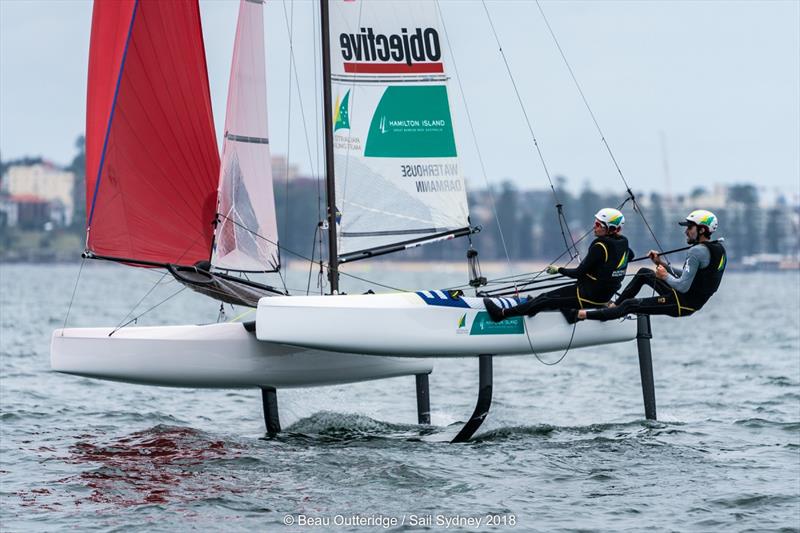 2018 Sail Sydney - Day 2 - Waterhouse and Darmanin - photo © Beau Outteridge
Lisa Darmanin, who was awarded Australian Sailing Female of the Year last week, will be one of those athletes. A winner at Sail Sydney 2018, Darmanin will be back racing in the Nacra 17 alongside Cousin and fellow Rio 2016 Olympic silver medallist Jason Waterhouse.
"Both Jason and I are looking forward to sailing at Sail Sydney," said Darmanin.
"It will be great to get back racing as part of our Olympic preparation. Having a full year to extend our Olympic campaign has seen us moving around to various locations on the east coast for training to ensure we experience conditions like Enoshima with an emphasis focusing on developing our techniques and our equipment. We are hoping Sail Sydney will provide us with a choppy harbour and strong north easterly wind conditions".
The event will be a COVID-19 compliant regatta, with an example of the measures to be implemented to ensure the safety of competitors including:
Only 70 boats allowed to stay at Woollahra Sailing Club
Competitors to sail from their home clubs where possible
Techno 293, Techno 293 + and Wind Foiling will be based out of Balmoral
Competitor briefings via social media
Registration via email with competitors emailing the OA of any changes to competitor details
Lodging of protest via the online app and protests will be conducted via video